So you've finally decided to pick up music production and you're looking for reliable equipment that could provide you the best audio quality for an affordable price. Lucky for you, we have done our reviews and are here to summarize what you need to get started! Our list will consist of products that delivers the best quality for affordable prices that would even satisfy professional users.
Regardless of what instrument you intend on using, an audio interface is a must-have. Why? It receives and sends out sound at a much higher quality as compared to most computer's built-in sound card whilst reducing latency. In other words, it highly contributes to your workflow, productivity and quality of work. With this, you have a better chance of translating what you have in your mind into sound. Essentially, it should be the core of your music production.
Now let's get to the part for what you're actually here for. Here are the top 5 music production starter kits every music producer needs to get started as of 2022.
1) Pro Focusrite Scarlett Solo Studio Pack (3rd Gen)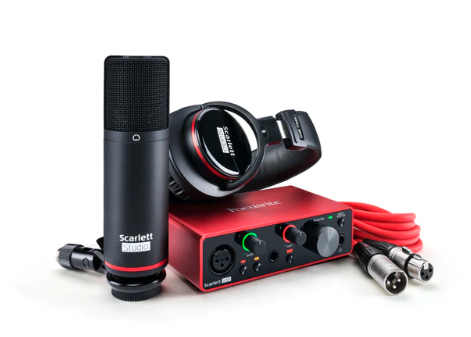 This red-hot machinery is one of the most well rounded and cost-efficient set that offers awesome sound and build quality. Just look at it, it's beautiful! The dynamic range on this audio interface is highly regarded in this level which even professionals find impressive. Each channel also has a cool illuminating LED light surrounding its gain knob that changes from green to red when audio signals peak. On top of the audio interface, it comes with the CM25 MKIII condenser microphone where you can capture a whole range of sound detail along with the solid HP60 MKIII headphones which allows you to mix and monitor comfortably.
Specifics for Reference:
Inputs: 1x XLR mic and 1x line/inst
Outputs: balanced TRS stereo pair
Compatibility: PC & Mac
Bundled Softwares:
Ableton Live Lite 10, Focusrite Red Plugin Suite, Pro Tools First, Softube
Time & Tone Bundle, XLN Audio Addictive Keys, 3-month Splice Sounds subscription
Special Feature(s):
Air mode which breathes life into vocals that adds unique high-end detail
Natural-sounding 3rd Gen mic pro-level preamp
2) M-Audio AIR 192|4 Vocal Studio Pro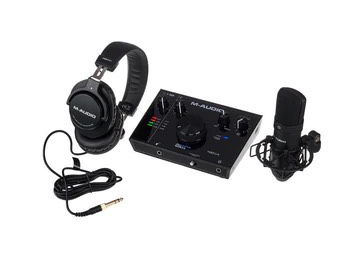 The sleek M-Audio AIR 192|4 performs exceptionally well on its quality of recording. On top of each channel's respective gain controls, this audio interface also features LED step displays for every channel to assist you in adjusting your gain. The set comes along with the HDH40 headphones which offers relatively flat sound for good mixings as well as the Nova Black condenser microphone which offers decent headroom and proximity effects. On top of that, M-Audio also throws in a microphone carrying pouch, a shock mount and a windscreen.
Specifics for Reference:
Inputs: 1x XLR + 1/4" combo input and 1x line/inst input
Outputs: Stereo 1/4" and 1/4" headphones
Compatibility: PC & Mac
Bundled Softwares:
Ableton Live Lite, Pro Tools | First M-Audio Edition, 20 effects plugins, virtual instruments and Loop package.
Special Feature(s):
Transparent CrystalTM preamps and ultra-pristine A/D converters for unrivalled recording quality.
3) Behringer U-PHORIA STUDIO Pro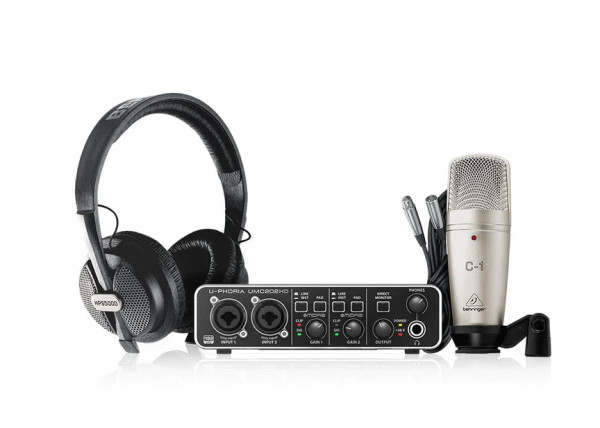 The set matches up in the entry level range especially due to its low price point. Although it is priced around $100 cheaper than the others, this set contains the Behringer's U-Phoria UMC202HD audio interface which is still reputedly one of the better audio interfaces out there. This is due to the two god-sent Midas preamps inside of it which is a commonly used preamp brand in the recording industry. Aside from the audio interface, the set comes with the C-1 condenser microphone and the HPS5000 studio headphones. Unfortunately, these two adds up to the low price as they are not exactly a great gear especially for music production as many argue that it simply does not perform well. However, if you're in for a podcast or simple audio recordings, it would probably suffice.
Specifics for Reference:
Inputs: 2x XLR/TRS combo inputs
Outputs: 2x 1/4" (L/R) and 1x 1/4" (Headphones)
Compatibility: PC & Mac
Special Feature(s):
World-class Midas preamps to provide clean, clear and crisp audio.
4) Mackie Producer Bundle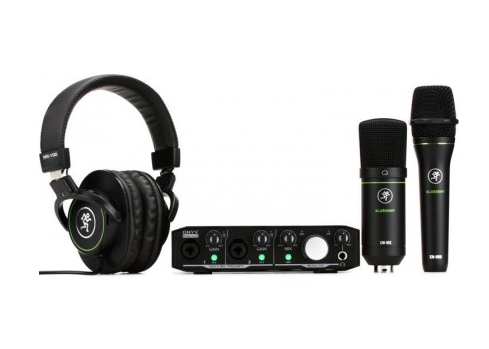 We've talked most cheap, now let's talk most expensive yet still affordable. The Mackie Producer Bundle comes with the Mackie Onyx Producer 2.2 audio interface. An absolute beast compared to the other audio interfaces in this budget range to get you the cleanest and most professional audio signals in and out. It comes with 2 microphones, one being a condenser mic (EM-91C) and the other being a dynamic mic (EM-89D). Depending on your voice or application, you may switch between the two mics at any time. The MC100 headphones also provide for excellent sound quality but is a little heavy on the bass side so if you listen to a lot of R&B, Hip-Hop or other bass focused music, you might just enjoy it. Although it may not be ideal for detailed work processing in the studio.
Specifics for Reference:
Inputs: 2x XLR/TRS combo inputs and MIDI In/Out.
Outputs: 2x 1/4" TRS Balanced Monitor Output and 1/4" TRS Unbalanced headphones output
Compatibility: PC & Mac
Bundled Softwares:
Special Feature(s):
Robust build quality that will definitely make it reliable for many years
Input signals can be monitored with zero latency with the input/DAW Mix knob
5) Steinberg UR22C Recording Pack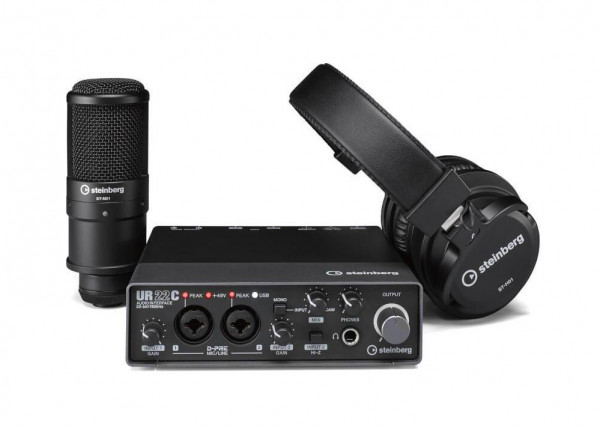 Last but not least, there is the German engineered Steinberg UR22C Studio Bundle. The company itself is now owned by a reputable name in the industry, Yamaha and the audio interface within this set does not disappoint. It is capable of recording at the highest quality of 32bits/192kHz which is normally only found on much more expensive models. It comes with the ST-M01 condenser mic which even professionals use from time to time as well as the ST-H01 monitor headphones that have great isolation as well as a balanced response. Although it may sound like the best product here, it would require an external power source to use with an IOS and it is often hard to find in the market.
Specifics for Reference:
Inputs: 2x XLR 1/4" combo inputs and MIDI In/Out.
Outputs: 2x 1/4" Balanced Outputs and 1/4" headphones output
Power: USB, DC (PSU optional)
Compatibility: PC & Mac
Bundled Softwares:
Cubase Ai, Cubase LE (iOS), WaveLab LE
Special Feature(s):
Extremely solid build
Awesome DSP effects

Recommendation
At the end of the day, these are all starter packs. They are definitely great without question and many producers around the world still use them. However, chances are that once you really start to dive into music production or audio production in general, you will probably want to upgrade your equipment. This is where you will start replacing one piece of the pack at a time. So get something that really suits your needs at the moment and learn as much as you can. Average equipment with good users are still able to create something amazing. Besides, music is all about being creative with what you have.