The sincerity in his voice and the authenticity with which he carried himself caught me off guard; here was a man whose career in music production had led him to collaborate with major international names we know and love. Yet, he concerned himself with how to express his thoughts to somebody he had never met—me.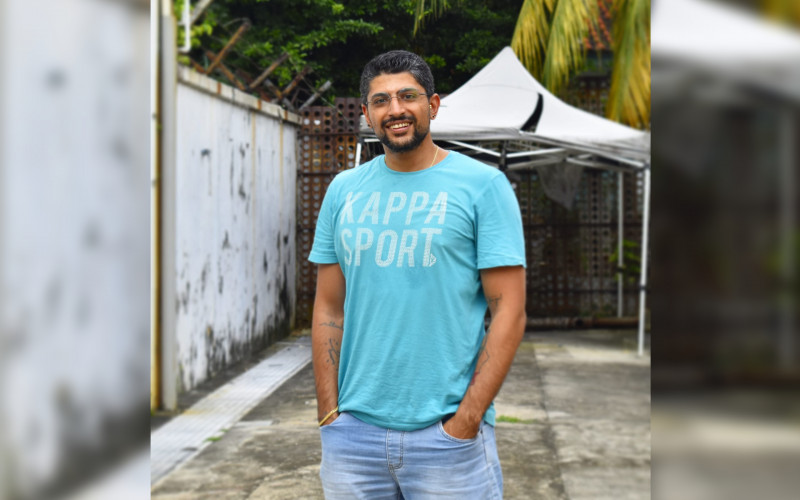 Hangi Takavoli is the man behind Flipside Productions & Marketing, an agency which has managed over 30 talented singers in the past few years. His cause is clear: to provide aspiring musicians with a real platform for test-driving their dreams and to help them get on their feet. It was something that teen Hangi had always wanted for himself back in Iran, his birthplace, but had seemed to consistently been denied by the industry.
The self-confessed lover of hip hop and rap steers clear from an authoritative leadership style, considering his team a family instead. "In a room full of creatives, that's just what works for us to build that collaborative environment," he explains. Working with the teams of A-list artistes and learning from them have also taught him a trick or three.
Inside Flipside Productions
Another music producer, known professionally as BADCOMBINA, has been instrumental (bad pun intended) in giving many tracks a life of their own. In The Rain was released in January 2022 with hauntingly good vocals and an electronic beat that could very well be your next bedroom anthem. He describes his music style as playing "between the predictable and the unknown". It's exciting when you think about it because every song then holds you in anticipation.
"We push ourselves to write weekly and either BADCOMBINA or me will take the lead in working on select pieces until we're musically satisfied with it. It's a lot of back and forth during the process of mixing and sharing feedback with each other. In (our) roles as music producers, (we) have to throw (our) personal taste in music out the window," laughs Hangi.
Patience, Determination and Humility
Working with Hangi can be a great opportunity for budding or aspiring singers. The team holds regular auditions twice each year to scout new talent and this year's edition will take place soon so check Flipside's website or social media channels regularly! Many of its signed artistes are relatively young and Hangi acknowledges that sometimes, after working on a few songs together, a few realise that this isn't the dream they had in mind. While considerable time and energy would have been invested by then, he knows that it will always be a part of the process.
Drawing from his experience, he shares, "Learning to read people better over the years has helped. I'm looking for determination and humility. Skills like songwriting and singing can be trained over time but your determination to succeed shows me how badly you want to pursue this as a professional." He adds that some of the most promising encounters he's had are with individuals who are open-minded and down-to-earth; people who are gutsy enough to try something new and who are willing to collaborate.
Stepping out of the recording studio and onto the ring, Hangi spends his time managing another type of talent—professional fighters across the categories of Mixed Martial Arts (MMA), Kickboxing, Muay Thai, Wrestling, and Boxing. Among the 16 pro-fighters under Flipside Production's Elite Team, one name stands out: Mehdi Barghi, Iran's national wrestling champion. While music and martial arts may seem worlds apart, Hangi gives a noncommittal shrug, saying, "I'm just managing talents."
Can You Have Your Cake and Eat It?
Back in the studio, Hangi warns against the "live trap", a phenomenon in which musicians or singers get their first taste of being paid for a live gig and subsequently presuming that any effort which doesn't pay immediately is not worth their time. He advises instead to stay away from such self-limiting mindsets. "Some people think that the cake in this industry is too small. Yeah! If you're only looking at reaching your local audience! But once you stretch yourself to see that the cake is actually your global audience, well…," he trails off.
Located on the 5th floor of Golden Mile Complex, independent musicians would be thrilled to know that Flipside Productions' recording studio is open 24/7 and available for booking on JamStudios.SG!
Check out their social media pages and give them a follow! Links down below!
https://www.instagram.com/flipsidepm/
https://www.facebook.com/flipsidepm